---
✓ 1600W POWERFUL MOTOR - 1.14GPM for superior cleaning power. A 20-foot high-pressure hose and a 35-foot power cord allow for flexible use in large areas.The Homdox Pressure Washer for cleaning cars,bicycles,fences,patios,sidewalks,sidings,garden,yard,outdoor furniture and more.Save your time and money. Please remember to empty the air in the hose before use, otherwise the pressure of the washing machine will not reach the standard
✓ Upgraded Leak-proof Connections: Professional metal garden hose double leakproof connector and metal water outlet. Metal Brass Adapter prevents the breaking from the bottom of the area, instead of flimsy plastic connector. Comes with a 20ft high-pressure hose (metal connection) to avoid annoying water leakage.Water inlet temperature(max) is 104 degrees Fahrenheit to optimize the problem of leaking water and bring the best experience to you
✓ More durable & Maximum safety:Our electric power washer features safety automatic total stop system (TSS), which automatically shuts off the pump when trigger is not engaged to save energy and prolong pump life. The spray gun has a safety lock which is safer and more reliable. The unique plug-in spray gun makes it more convenient.This pressure washer is IPX5 waterproof and features a GFCI plug to prevent electric leakage, allowing you to safely operate this machine without any safety concerns
✓ 5 NOZZLES OPTIONS - 5 Quick-Connect spray tips (0º, 15º, 25º, 40º, 60º and soap) tackle light,medium and heavy duty cleaning tasks.0º - areas that are high and hard to reach; clean crevices in sidewalks or driveways; 15º- use on concrete, brick and other hard surfaces with stubborn stains; 25º- use on painted surfaces, wood siding, fences and lawn mowers;40º- use on windows and screens;60º- use on car, patios, garden ,furniture and more;soap- use to spray soaps and detergents
✓Humanized Design&Customer Support:Energy conservation, environment friendly, quieter than gas engine pressure washer.The high-pressure washer has 2 sturdy wheels and ergonomic telescopic rods; the hook is used to store wires, guns and soap bottles; it is very convenient to use.We provide a 2 year warranty, if you have any problems with your high pressure cleaner, you can contact us at any time. If you are not satisfied, you can get a full refund within 30 days! !
---
Product Description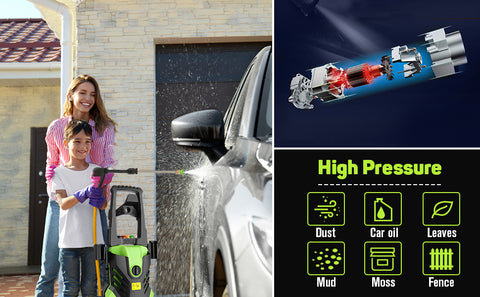 Easy to operate and storage
A 20-foot high-pressure hose and a 35-foot power cord allow for flexible use in large areas; built with telescopic handle and 2 sturdy wheels for easy transportation; the reel holds the high-pressure hose neatly without tangling, built-in nozzle holders on the spray lance store the nozzles, and the spray gun holder on the pressure washer holds the spray gun. Pistol style grip with trigger spray wand dispenses for efficient pressure washing.

HOMDOX Pressure washers machines are very useful and easily reach in the areas and corners where cleaning normally is so difficult with traditional Washers. They designed to remove even the adamant dirt, grease or grime from horizontal and vertical spaces without any strain.

Easily remove surface tar from cars, insect stains, grease deposits on concrete, oil stains and rust stains, and other stubborn yard and garden waste and dirt.
The Homdox pressure washer delivers it all to tackle a variety of cleaning tasks: homes, buildings, RV's, cars, trucks, boats, decks, driveways, patios, lawn equipment, and more.
| | |
| --- | --- |
| | |
| CLEANING GARDEN FURNITURE | CLEANING GROUND |
| | |
| CLEANING FENCE | CLEANING GRIME |

THE HOMDOX POWER WASHER COMBINES POWER, PERFORMANCE, AND VERSATILITY. The Homdox electric pressure washer generates up to MAX PSI of water pressure and 1.14 GPM of water flow for superior cleaning power.